Description: Installing a Lexan Window (trust me, you'll want one!)
Material List:
| | | | |
| --- | --- | --- | --- |
| Qty | Size | Description | Usage |
| 1 | 1/4"x30"x48" | Lexan Window | Window |
| 1 | Tube | Window and Door Caulking | Caulking |
| 1 | Box - #8x3/4" | Wood Screws | Trim |
| 16 | Feet | Oak Trim (your style) | Trim |
| 1 | Roll | 3/4" Melamine Iron On Edging | Trim |
| 1 | N/A | Countersinking Drill Bit | Trim |
| 1 | N/A | Router Bit and Router | Channel |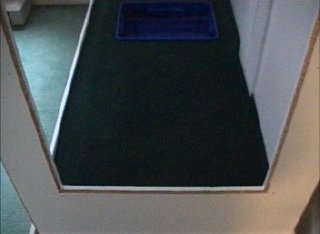 Note: Trace window onto wall panel with pencil. Using a straight edge, measure in Ĺ" all around so you have a second square just slightly smaller than the window your installing. Use jigsaw and circular saw with a formica blade to remove wood from inner cut. The fine blade will prevent chipping the melamine coating. Also, if you don't have a soft foot for your tools, you may wish to mask off the wood surface with tape before cutting to keep from marring the surface. Using Router, route a groove around the entire edge the depth of the window so as to create a bed for the lexan panel to lay in. (See the photo above) While itís available, iron on melamine edging over the inside edge to seal it. That inside edge will be visible once the windows installed so take your time here. Trim the edging with a utility knife for a finished look. Lay the lexan panel into the routed hole and trim with oak using a mitre box to cut the oak properly. Secure the window in place with the trim, some caulking, and some #8 screws. Do not screw through the window, the trim will hold it securely in the routed groove. For a totally finished look, I trimmed the inside of the window frame with 1/2" aluminum channel which I cut and angled with my mitre box.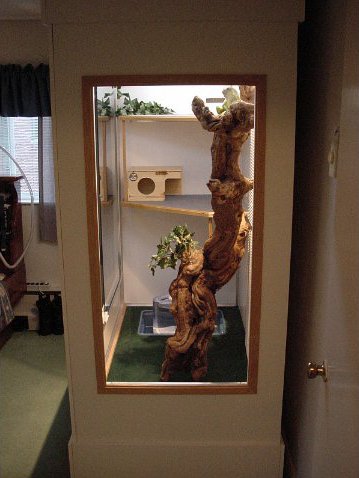 Construction Time : About 1.0 hour

GO TO STEP 5 - PLACING THE HABITAT TOP

HOME - BASE - TOP - ELECTRICAL - SIDES - BACK - WINDOWS
SHELVES - FRONT - DOORS - FINAL ASSEMBLY