Description: melamine sheathed walls with aluminum channel corner reinforcements
Material List:
| | | | |
| --- | --- | --- | --- |
| Qty | Size | Description | Usage |
| 4 | 3/4"x36"x72" | Melamine Sheeting | Side and Back Panels |
| 2 | 1"x1"x72"x.50" | Aluminum L Channel | Corner Reinforcements |
| 4 | 1"x1"x36"x.50" | Aluminum L Channel | Wall to Floor Reinforcements |
| 1 | 3/4"x10"x72" | Melamine Shelving | Center Connector |
| 1 | 10"x72" | White Wire Shelving | Center Ladder |
| 1 | Tube | White Silicone Caulk | Waterproof all Seams |
| 1 | Bag | Wire Shelving Nylon Anchors | Secure Wire Shelf to Center |
| 1 | Box #8x3/4" | Wood Screws (Zinc Coated) | Fasteners |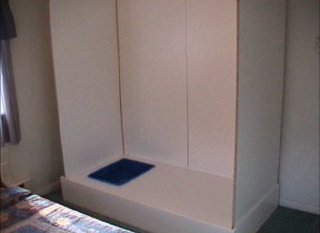 Note: Basically attach one wall to one half of rear wall using the aluminum channel and #8 screws - mount both pieces on base unit and secure both halves of the back wall with a 10" wide melamine shelf forming a center spine. Attach wire shelving unit to center spine to form ladder - all sizing is estimated, please measure everything before you cut. In the case of the wire shelving, it comes from home depot with a lip. Use a jigsaw and fine metal cutting blade to trim the lip away leaving a flat wire "ladder" for climbing. The white nylon anchors will secure the climbing ladder to the center spine and allow your Iguana access to all shelves within the unit.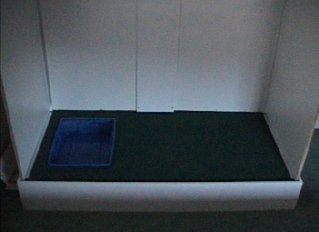 Note: The walls sit on the base unit inside the lip of the base. They are secured to the base using the aluminum channel provided - this anchors them well after they have been caulked. Make sure your walls are cut to provide a ¾-1" gap between the wall and the front lip of the base - this leaves room for the ¾" boards that make up the front of the unit.
Note: Remember I designed this for a minimum of cuts? If you don't want sawdust EVERYWHERE, Home Depot will rip the full size Melamine panels to size for you. Of course it will cost .50/per cut but makes life so much easier. If you cut them yourself, please use a very fine toothed blade, such as a formica blade. Melamine will chip if you don't, leaving an unattractive edge behind. If in doubt, score the line with a shop knife before cutting, and use masking tape to keep the saw from marring the surface..
Construction Time : About 2.0 hours

GO TO STEP 4 - INSTALLING THE SIDE WINDOW(S)

HOME - BASE - TOP - ELECTRICAL - SIDES - BACK - WINDOWS
SHELVES - FRONT - DOORS - FINAL ASSEMBLY